CLICK BELOW TO APPLY IN HAMPTON ROADS, VA ONLY.
CLICK BELOW TO APPLY IN ​ALABAMA, FLORIDA, GEORGIA, LOUISIANA, MISSISSIPPI, OHIO, RICHMOND VIRGINIA, CHARLOTTESVILLE VA, TENNESSEE, TEXAS, AND UTAH.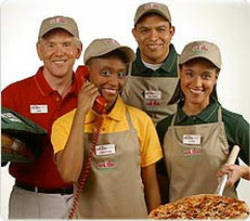 Restaurant Team Members
In-restaurant team members who provide outstanding customer service
and create our superior product have the opportunity for growth and advancement.
In-restaurant team members must be at least 16 years of age and enjoy working
with people in a fast-paced team environment.
Delivery

Drivers
Delivery drivers provide outstanding customer service and create our superior products. In addition to performing many of the same duties as our in-restaurant team
members, delivery drivers are our ambassadors of quality and service right to the customer's door! As a delivery driver, you will enjoy hourly pay, cash for every delivery you make, the opportunity to earn great tips and health insurance availability. Our drivers must be at least 18 years of age, have a valid driver's license, reliable transportation, current automobile insurance, a clean driving record and enjoy working in a strong team environment. If you are
interested in a driver or team member position, visit your nearest neighborhood
Papa John's.
Restaurant

Management Opportunities
If you have management experience, we want to talk to you. If you can
take control of a high volume, fast-paced business, think about joining Papa
John's, the quality leader in the pizza industry. With our rapid expansion, we
may have an opening in your area.
---